Kurzweil Music Systems
OPTIONS/UPDATES
Basiskarte, ROM-1

Synthesizer
Kurzweil K2000-Serie

Kurze Beschreibung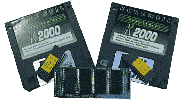 Das Klassik/Orchester-ROM ist - wie der Name schon sagt - ein absoluter Spezialist in Sachen konzertanter Musik. Alle nur erdenklichen Varianten dieser Musikgattung werden hier durch hochwertige Samples abgedeckt, die in komprimierter Form in das 8 MB große ROM gepackt sind. Nach der Installation durch Ihren Händler finden Sie ab der Bank 900 die neuen Programme und zusätzlich 50 neue Setups. Weitere 1.000 Progamme erhalten Sie mit der beigelegten Diskette.
ROM-1 K20 gibt es in zwei Varianten: Sind noch keine ROMs in Ihrem K2000 vorhanden, benötigen Sie die Version ROM-1 K20-B. In diesem Paket ist zusätzlich eine steckbare Basiskarte als Trägerplatine enthalten, die das ROM-1 K20 aufnimmt.
Ist bereits ein ROM-2 K20-B vorhanden, bestellen Sie bei Ihrem Händler lediglich das ROM-1 K20-A, das dann auf der bereits vorhandenen Basiskarte des ROM-2 K20-B plaziert wird.
Soundliste ROM-1: Bank 900
| | | |
| --- | --- | --- |
| Orchestra | TotaI Control Orchester 1, TotaI Control Orchester 2, Baroque 0rchestra, Oboe and Flute with Strings, Horn und Flute with Strings, Trumpet and Horns with Strings | |
| Winds | Piccolo, Orchestra Flute, Solo Flute, Orchestral Oboe, Solo Oboe, 2nd Oboe, Orchestra English Horn, Solo English Horn, Orchestra Clarinet, Solo Clarinet, Orchestra Bassoon, Solo Bassoon, Woodwinds 1, Woodwinds 2 | |
| Brass | Dynamic Trumpet, Copland Soft Trumpet, Orchestra Trumpet, Soft Trumpet, Straight Mute Trumpet, French Horn, Slow Horn, French Horn Con Sord, French Horn a2 MW, French Horn Section 1, French Horn Section 2, Solo Trombone, Tuba, Dynamic Hi Brass, Dynamic Low Brass, Dynamic Brass & Horn, Soaring Brass | |
| Solo Strings | Marcato Violin MW, Solo Violin, 2nd Violin, Orchestra Viola, Solo Viola, Slow Viola, Marcato Cello MW, Solo Cello, Slow Cello, Arco Double Bass, Slow Arco Bass, Bright Double Bass | |
| Section Strings | Touch Strings, Fast Strings MW, Chamber Section, Sforzato Strings MW, Sweet Strings, Baroque String Ensemble, Big String Ensemble, Bass String Section, Pizzicato String, Wet Pizzicato, Arco and Pizzicato | |
| Plucked Strings | Classical Guitar, Virtuoso Guitar, Acoustic Bass, Snappy Jazz Bass, Dynamic Harp, Harp with Octace Control, Harp Arps | |
| Keyboards | Celesta, Pipes, Pedal Pipes, Church Bells | |
| Percussion | Gockenspiel, Xylophone, Chimes, Timpani/Chimes, Timpani, Timpani and Percussion, Big Drum Corp, Orchestra Percussion 1, Orchestra Percussion 2, Jam Corp, Conga and Percussion, Woody Jam Rack, Metal Garden, Hot Tamali Kit, Funk Kit | |
| Synths | Magic Guitar, Glass Bow, Synth Orchestra, Nooage InstaHarp, AC Dream, Synth Dulcimer, Glistener, Afro Multi Control, Tranquil Sleigh, Batman Strings, Ethnoo Lead, Orchestra Pad Control, Choral Sleigh, Pad Nine | |
© 2001, Kurzweil Music Systems - A Division of YCE. All Rights Reserved.